Frank & Fresh Coffee- Freshly roasted. A real treat
Working from home has made us drink more coffee at home. New coffee makers were so popular at the beginning of the lockdown that's why. You buy really good coffee at Frank's & Fresh Coffee.
Freshly roasted for you and you can taste that.
Dutch people and coffee
Dutch people often drink old coffee! Coffee beans in the supermarket are on average at least two months old. While coffee has actually lost most of its flavor after four weeks. The new coffee brand Frank & Fresh Coffee changes all that with four fresh coffees, specially roasted to order.
How to enjoy coffee when it is at its tastiest – freshly roasted for you.
Let's be Frank
Dutch people want to drink better coffee, both the increase in sales of coffee beans and espresso machines shows this. Ninety percent of coffee drinkers buy their coffee beans at the supermarket. These coffees are roasted in large batches, packaged and on the go for quite some time.
This way, these beans are already at least two months old when you buy them.
Introduces the coffee drinker to the taste of real coffee
Frank & Fresh Coffee wants to introduce the Dutch coffee drinker to the taste of truly fresh coffee. So they are turning the chain around and the new coffee brand is roasting espresso beans to order and delivering the beans to your home exactly one week after roasting, before the weekend. Just through the mailbox.
So you drink your espresso, cortado, cappuccino, flat white, latte or your own personal creation when it tastes best.
Freshly roasted for you
In addition to freshness, Frank guarantees & Fresh Coffee also offers the best quality coffee beans, which are of course purchased at a fair price and also sustainably packaged.
Four flavors, three origins
Frank & Fresh Coffee starts with four different flavors: Funky & Fruity, Sweet & Soft, Raw & Robust and Bold & Brave. The coffee brand thus has something for every coffee drinker. From a sweet and creamy single origin to a hearty and bold blend.
For the four flavors, the new coffee brand works exclusively with specialty coffee from three different origins: Brazil, Colombia and Rwanda.
May experience
How easy it is to get espresso beans in the mailbox on demand, I experienced myself, when I received the coffee from Frank & Fresh Coffee was allowed to receive. We have actually been drinking the same coffee for years, at the beginning of the first lockdown our coffee machine broke down and we bought a Jura coffee bean machine. We are very satisfied with these and have nothing to complain about. Yet I taste very clear difference with our own beans ( which are certainly longer in the cupboard and from the supermarket ) and the coffee beans from Frank & Fresh Coffee.
The taste is much more powerful and strongly present.
Raw & Robust
We started with the Raw & Robust and this one deserves a 10 for us. What a deliciously powerful taste. Even when you make a cappuccino, you can taste the heavy, intense aroma of this delicious coffee bean back in your cup.
This coffee has the full, dark taste due to the addition of chocolate, syrup and vanilla.
Bold & Brave
The second bag of coffee beans freshly roasted by Frank & Fresh Coffee was Bold & Brave. In terms of taste, this one is mid-powerful than the Raw & Robust, but still strong. Also in this coffee you will find notes of dark chocolate and orange peel.
Sweet & Soft
It is very funny to be able to taste the different flavors. At Sweet & Soft I thought of a very soft taste, but even this coffee bean you taste very clearly in your cup. Sweet & Soft is Brazilian coffee with flavors of nuts, milk chocolate and a hint of nougat.
As for that, I really recommend a sample pack like we got. This allows you to choose your own preference.
Funky & Fruity
Fresh fruity coffee with dates, raisins and chocolate. A very fresh, tasty cup of coffee you can make with this Funky & Fruit.
My tips: Order a sample pack and taste for yourself what coffee tastes best to you.
Frank & Fresh Coffee prices:
Prices of Frank & Fresh Coffee:
€ 19.75 for 700 grams
€ 10.75 for 350 grams
sample pack (4 x 150 grams) is €17.50.
The final coffee bags are still being produced. The bags will look slightly different, but the information will be the same.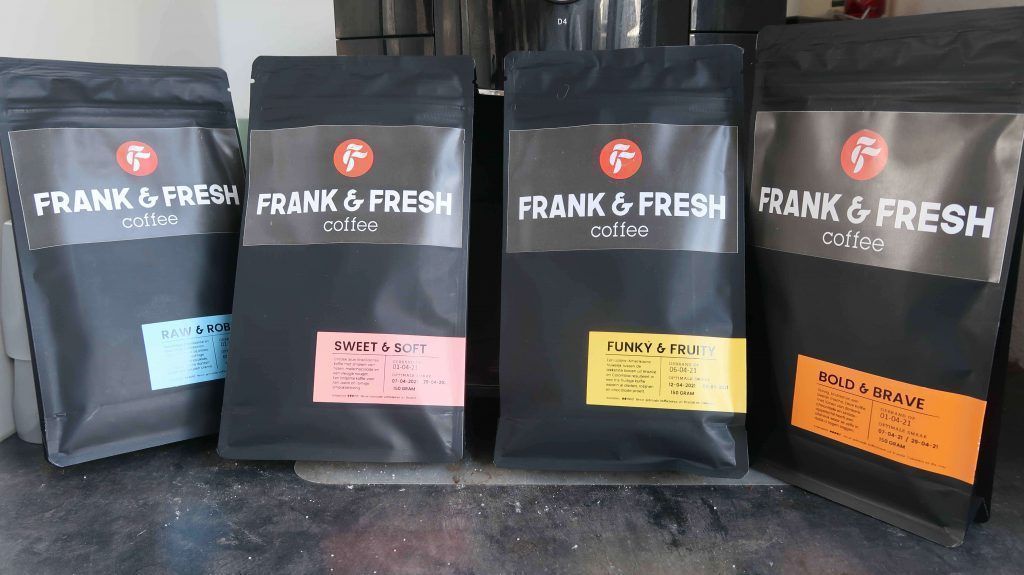 Espresso beans to order
Freshly roasted for you! You can say that. Although I have always experienced our 'old' coffee as fine, I now notice what a taste freshly roasted coffee beans give.
The taste of Frank & Fresh Coffee is much more potent than what I am used to and therefore you really enjoy a good cup of coffee to the fullest. Highly recommended!