Bohemian living in a few steps
Bohemian style means a lot of mix and match in your home. A touch of vintage, different materials a little exotic. With a Bohemian style, everything is possible and allowed.
Show your adventures and love for freedom and color in your home?
Modern and industrial meets bohemian
With Bohemian you can think of adventure, freedom and influences from (exotic) travel. The advantage of the Bohemian style is that not everything 's within the lines' has to be. And if we start with the floor, you will see that the Bohemian style of living can very well combine modern and industrial, such as cast floors. The advantage of cast floors is that the height of the floor is lower than that of most other floors.
Ideal to put a nice Bohemian rug on it. Do you find cast floors very pricey, look for an epoxy cast floor, A cast floor of epoxy is slightly cheaper than that of polyurethane but beautiful and easy to clean
Mix and match with your Bohemian lifestyle
For the floor you can look for a nice rug that matches the sofa and the coffee table. Bohemian living allows you to mix and match what you want. Choose exotic colours? Or go for earth tones?
What to look for now if you want a bit of Bohemian in your home?
save unit
Natural materials are a must, but make sure you keep unity, especially if you're going to work with multiple colors. Choose natural wood, rattan and bamboo and create a feeling of luxury in your home, for example by placing soft cushions on the sofa.
Use color
If you work with multiple colors in your home, make one color the main color and let it be the unifying factor within your Bohemian style. Think of a color on the wall and look for accessories in the same color. The wall can stand out if you keep the rest of the walls calm.
But in terms of color you can also choose a style photos on the wall, with a similar color palette. In a Bohemian style you can put your vacation photos, but also beautiful views of places where you still dream of going someday
Your personal touch
Bohemian style includes adventure, travel and stories, influences from Ibiza, but also your free lifestyle, you can go your own way and send a totally personal touch to your living room. Give your (travel) memories a beautiful place in your home.
What else is possible with a Bohemian lifestyle??
Of course the green of plants in your living room cannot be missing, but also think about a pouf, go to work with macramé and make your own tapestry or dreamcatcher. Make your house, really your home!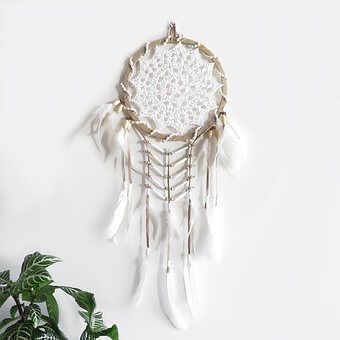 Need more inspiration? Check out Pinterest for Bohemian living inspiration and read more about Bohemian living on my blog.