The Hydro Flask Wine Bottle and Tumbler. Keeps your wine at the right temperature
Are you a wine drinker like me? And don't you love cold red wine or warm white wine?? I read about Hydro Flask this week and saw here the solution to my 'wine problem'.
No matter what wine you drink
As long as the wine is good! Hydro Flask is known for the acclaimed insulation properties of its products. This keeps 750 ml of wine or rosé at your chosen temperature in the Wine Bottle and the Wine Tumblers keep your favorite summer drink even longer so you can enjoy the outdoors carefree!
Hydro Flask 25 oz Wine Bottle
The elegant Wine Bottle contains exactly the amount of a standard bottle of wine, namely 75 cl. So this spring, and certainly this summer, it should not be missed as a regular partner during hikes, picnics, festivals or summer vacations…. You can take them anywhere to increase to enjoy a fresh glass of rosé or white wine with family and friends, regardless of the hot temperatures. No more fumbling with uncorking your bottle or lugging around glass bottles. Take the Wine Bottle with you wherever you go. It is available in three colors: white, black and olive green. Price: € 49,95
Hydro Flask 10 oz Wine Tumbler
The stylish Wine Tumbler lets you enjoy your favorite rosé or white wine to the fullest. They are 100% recyclable, reusable and BPA-free (Bisphenol A). The double-walled heat-insulating material with TempShield™technology, is made of the highest quality 18/8 stainless steel, keeping any drink at the desired temperature without changing its taste. The Wine Tumbler is also available in three colors: white, black and olive green. Price: € 34,95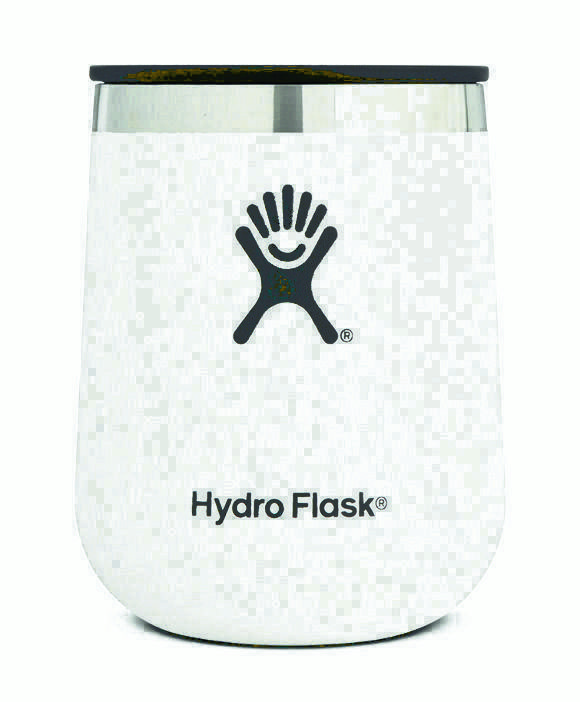 Since its inception in 2009, Hydro Flask quickly grew into a company specializing in hydration. 0in the U.S. market, Hydro Flask is the fastest growing brand in its industry. Thanks to its focus on insulated bottles and its unique consumer experience, the company is the leader in the U.S. market for insulated bottles and has become the 3rd largest player in the U.S. market of drinking cups and bottles.
A wine lover
We are real wine lovers and although the above products are pricey, it seems ideal to me. On vacation we often camp, even in May and then it's just not everywhere equally warm. 'In the evening we like to have a red wine and this should be at the right temperature. Also for white wine it is easyl. The wine stays cold and the bottle is also ideal to take with you. Great for a picnic or festival. In one week it will be Mother's Day. I say, an ideal gift!
More great products
Besides wine products, you can find many more handy bottles on the Hdro Flask site. As a climber and outdoorsman I am a big fan of the beautiful website, with beautiful nature photos. On the site you will find bottles for water, coffee, but also beer. For more information about Hydro Flask and how you can personalize your own water bottle with colors, check out the site!