Recipe peanut butter cookies
By Debbie; Kids and sweets, it's a golden combo. I think that's programmed in somewhere. They just love sweet. Well I rarely have sweets in the house but of course I bake a lot and so there is usually something from cookies or cake or pie. Not that they like everything though, it has to be a little kidproof.
At least they love cookies!
Peanut Butter Cookies
Many children do like peanut butter on bread. So why not in a cookie?! I had to try it anyway, peanut butter cookies. I do not like peanut butter but of course I tasted it.
Even I like them! Give them a try, they are very easy to make and very tasty!
What you need?
– 50 grams of soft butter
– 100 grams of light brown caster sugar
– 50 grams of peanut butter
– 1 beaten egg
– 1 teaspoon vanilla extract
– 200 grams of flour
– 1/2 teaspoon baking soda (or possibly half a teaspoon of baking powder)
How to proceed?
Mix the butter with the sugar until soft and creamy.
Add the peanut butter, egg and vanilla extract.
Finally add the flour and baking soda.
Mix until it is a cohesive dough and, wrapped in cling film, let it rest in the refrigerator for half an hour.
Line a baking tray with baking paper and preheat the oven to 180°C.
Make balls the size of walnuts and flatten them a bit with a fork.
Bake for 10 minutes until golden brown.
Let cool on a rack.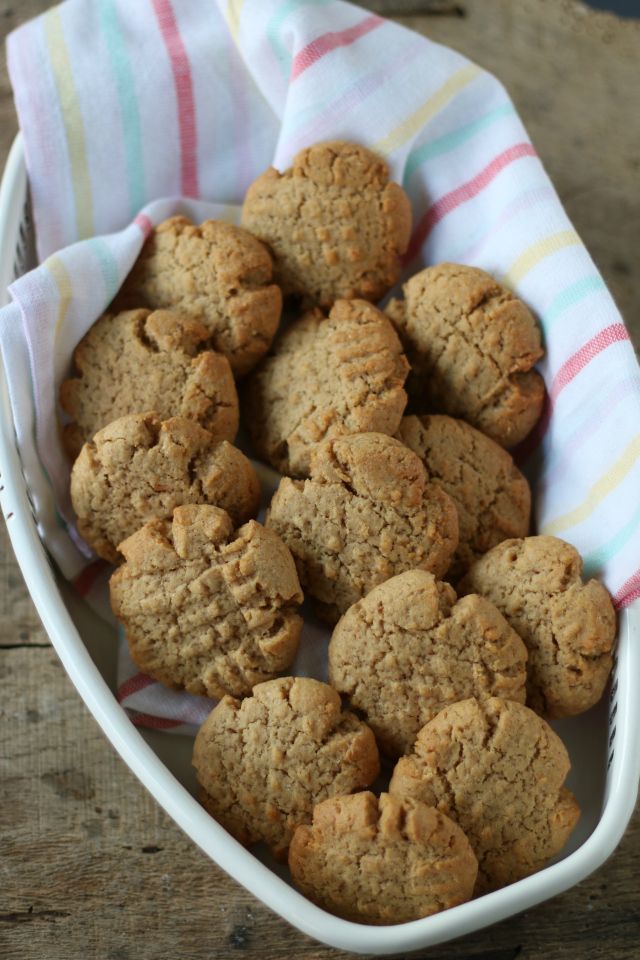 This article was written by Debbie Bodewes. More from Debbie can be found on her blog Deb's Bakery & Kitchen.
♥ ♥ ♥ Fulltime Mama uses affiliate links. This means that if you click on one of the links, we may get a small commission on it. It costs you nothing extra, but it does give us something extra. With these proceeds we can maintain this website.
Also, sometimes we get paid for an article or we get a product in exchange for a blog post. This still leaves our opinion unchanged and honest. For more information, you can read through the disclaimer. ♥ ♥ ♥