Infinite love together in one piece of jewelry
Infinite love, how beautiful is that? And how nice it is to have the symbol of infinity in a piece of jewelry? Because they know that I love my boys and now I can show it to them too. How?
By wearing a piece of jewelry.
Name jewelry in different forms
Do you know Names4ever? Names4ever is the specialist in name jewelry. On the website you will find a lot of different jewelry.
Name necklaces, mom jewelry, family jewelry and love jewelry. The name necklace is incredibly 'hot' and blown over from the USA where you see celebrities walking with this piece of jewelry for some time now. A name necklace with one name is of course totally fun. But would you like a name necklace with two names, that is also possible!
All name necklaces are personalized because there are many choices of letters. You can also choose between a gold or silver name chain.
Infinity for infinite love
My choice of jewelry ended up being an infinity bracelet. The meaning of infinty really appeals to me. Infinite means infinity in English and the Infinity symbol of infinity is known worldwide. Infinite love, friendship, health, life and memory. In addition, this infinity sign symbolizes constant renewal, harmony, balance and connection.
This meaning appeals to me, but also the word 'love' in the bracelet, I find beautiful and appropriate for the love for my boys.
My bracelet full of love
A few days after ordering I received my bracelet at home. Packaged in a beautiful box. I always like this myself, because there is clearly paid attention to the packaging.
I was immediately charmed by the bracelet. It is beautiful, feels very light on your arm and is subtle. The boys' names are small on the necklace. I myself like this very much because I love that little subtle thing. When ordering I could choose from a bracelet of 18 or 21 cm.
The open link makes the bracelet easily adjustable in length. The infinity sign is 34 x 15 mm in size. Because I have thin wrists, I chose 18 centimeters, this was a good choice.
The bracelet fits nicely and because the pendant is light it doesn't shift and the infinity sign stays on my wrist and doesn't sink down.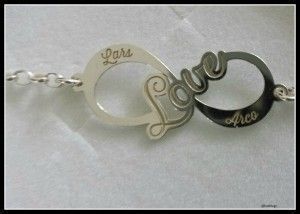 So much choice, what do you choose?
Besides necklaces and bracelets, in all shapes and types, Names4ever also sells friendship rings. Again, of course, a name can be put in here as well. You can also find pendants with animals, constellations or sports jewelry.
There is also thought of children's jewelry, men's jewelry, communion jewelry and pink ribbon jewelry.
I chose the subtle, but there is so much to find if you would rather have the names bigger. You can also choose to have zirconia or not. If you want to surprise someone or would like to get a piece of jewelry as a present yourself (think Mother's Day) then I would definitely take a look at the Names4ever website.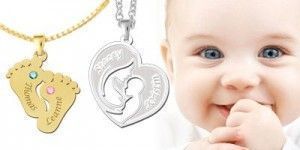 mommy jewelry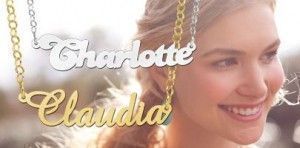 name necklace